This article was first published on LucidPress.com
Fundamentally, stories are about connection. They offer universals for everyone to relate to, and they establish common experiences between people. In business, storytelling can be a powerful tool, especially when it comes to branding. But what if we told you that you can also use your brand name to tell a story?
Applying stories to your business name may seem impossible. Most brand names are only one or two words. How can a story fit inside that?
Story-driven names use metaphors and references like Nike and Amazon. Nike is the Greek goddess of victory. Amazon refers to the largest forest on earth. From these metaphorical names, we can tease out intriguing stories.
Nike's story leads us on a journey of achievement and victory, which are powerful associations for an athletic wear brand.
Amazon's metaphor speaks to discovery and the endless, nourishing variety that is found in the rainforest.
Story-driven names are intriguing. They draw people in. They also have the added bonus of setting up an association between your brand and an established story. Every story provides a foundation of connection and values.
Here are some great examples of brand names that tell a story:
Robinhood
We are all familiar with the tale of the heroic bandit Robin Hood who stole from the rich to give to the poor. There have been countless adaptations of this story, which focuses on values of helping others and fairly redistributing wealth. One company has even had great success by taking on the story as a business name.
Robinhood, the business, is an financial service company that started out as an app that allowed people to invest in public stock without having to pay commission fees. When you open up their website, the first thing you see is a tagline: "Investing. Now for the Rest of Us." This solidifies their connection to the values of the Robin Hood story because they aim to make investing less exclusive and more accessible to the average person.
By using the story, Robinhood sets itself up as a fair platform and something of a hero in the realm of finance.
Sunlight
Sunlight.is is a startup with an captivating metaphor behind their name. According to their website, "Sunlight helps companies grow a highly engaging learning culture by facilitating their team's access to any course, book or event in the world." This idea of growth is what inspired their name.
We inquired directly about their name, and they responded back on Twitter, "We believe every living thing depends on the sun for growth… in the same manner, we believe every human being requires knowledge for growth and self-realization. We want to help companies and people grow #WithSunlight." Their name comes from the idea that light from the sun facilitates photosynthesis in plants, allow them to grow and thus allowing other organism to feed on them. It is a name that focuses on cycles, connections, and the story of life itself.
By using a subtle story, Sunlight intrigues and gets audiences asking questions before they know much about the business itself. This kind of interaction is one of the great benefits of a strong story-driven name.
Project Gutenberg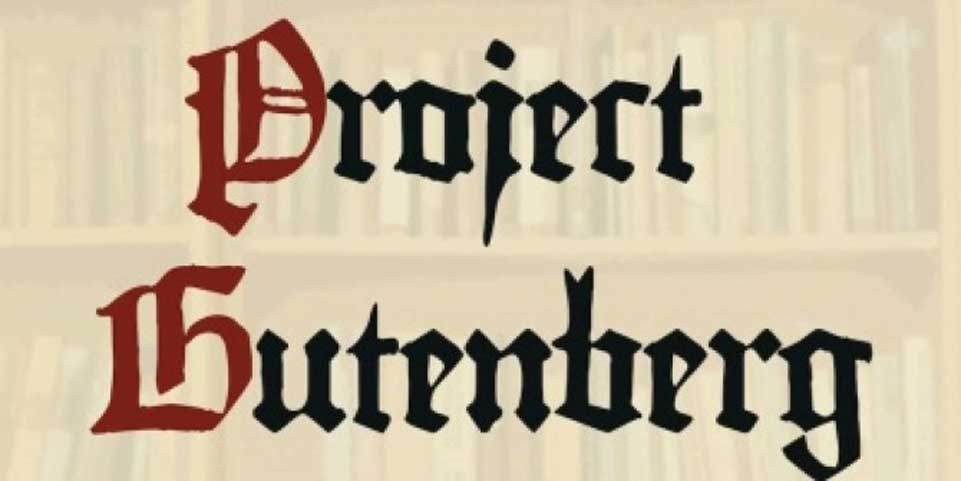 Project Gutenberg is a resource where people can find free ebooks online. It is a volunteer effort to digitize archives and provide people with free access to this content.
This name functions perfectly for this revolutionary non-profit. Project Gutenberg takes its name from one of the most influential inventions in human history–the Gutenberg printing press. Without the printing press, there likely would not have been the Reformation, the Enlightenment, the Industrial Revolution, and other key periods of cultural revolution. The Gutenberg printing press allowed people to print bibles in their own languages, not just Latin, increasing literacy and free thought. Essentially, the Gutenberg press increased access to the written word, and this is exactly what Project Gutenberg does.
Project Gutenberg's name utilizes the true story of a pivotal point in human history to highlight the importance and value of what they do. This ability to connect to values and important events is another notable benefit of a story-driven name.
Back to You
Story-driven business names are one of the only name types that allow you to express a world of information in just a few words. If you can align your brand with the right story, you can capture strong ideas, emotions, imagery, and your audience's personal memories in one or two words. This establishes a strong point of connection between your brand and your audience, which can give you an advantage in the business world.
Harness the power of storytelling by coming up with a few of your own name ideas. The best way to do this is to use this ultimate guide on how to come up with a business name and funnel your ideas down to the basics. Make a list of everything you want your business to capture. From there, start thinking of stories that align with your business values, goals, and benefits.
Picking an intriguing story as the foundation of your brand can set you up for success because it establishes an emotion, resonating connection in your audience's mind. What are some of your favorite stories, and how can you use them to push your brand forward?

Grant Polachek is the Director of Marketing at Inc 500 company Squadhelp.com, the worlds #1 naming platform, with nearly 20,000 customers from the smallest startups across the globe to the largest corporations including Nestle, Philips, Hilton, Pepsi, and AutoNation. Get inspired by exploring these winning brand name ideas.